Let's dive into the blended colorful Paradise of Beaches!
The Sunshine State, Florida, once called La Florida, is the only state that is mounted by both the Atlantic Ocean on the east and the Gulf of Mexico on the west. The state includes myriads of beaches and is praised for the longest coastline that boasts around 825 miles of white sand beaches that are accessible. Florida has a unique climate; the only continental state nearby Hawaii that has a tropical climate as well as a coral reef. Well, most of the time, we only think of Florida as the state of the sparkling sun, orange juices, alligators, and theme parks; but this state is beyond your imaginations. There are many best places to visit in Florida; here, you'll find Miami Beach plus, with the best combo of sun, beach, and sand; you can also go scuba diving, snorkeling but remember to capture the most scenic road trip. A big thanks to the master strokes of engineers; Overseas Highway. If you are yearning to visit Florida but are in two minds, then this article presents you with the most vibrant places. So, let's get into it!

Sarasota:
If you are an extreme nature lover, then you should have to pay a visit to Sarasota. And if you are thinking of this town as a picturesque place next to the West Coast of Florida resembling other towns, then ponder again because this town is an entirely distinctive town as it entails the only colossal Amish and Mennonites enclaves. The town is featuring the Splendid list of attraction-that are centered by art activities; The John & Mable Ringling Art Museum, Sarasota's Art Center. Not only this, there are various craft shows, and festivals held that are extensively wooed by collectors and enthusiasts. The art town presents us not limited to the traditional works such as sculptures and paintings as well. The mainstay of this sunshine state is also the performing arts like ballet, opera, as well as a circus; in actuality, it is enormously soaked in Sarasota. One thing that makes this town worth visiting is that the prime position is by Sarasota Bay as well as the Gulf of Mexico.
Orlando - Walt Disney World
It is often said, "nothing can beat the original," and that's what was said about the world's biggest Disney Land, "Orlando-Walt Disney World," a complex resort. Don't misunderstand, it's not only for kids, but it's also even for elders. Yes! This Disneyland entertains-an entertainment district-all age guests. There are extraordinarily thrilling and exciting rides that can easily blow your mind. But other than that, there are many countless attractions and activities outside the park. If you are not with your little ones, then reinvigorate your trip with the stunning scenes of restaurants and nightlife in the area downtown. The cast of Disney characters drew the attention of hypes towards them for years. If you are a golfing person, then make your way to the golf area in the subtropical climate and explore the scenic nature of the downtown landscape.
St. Petersburg: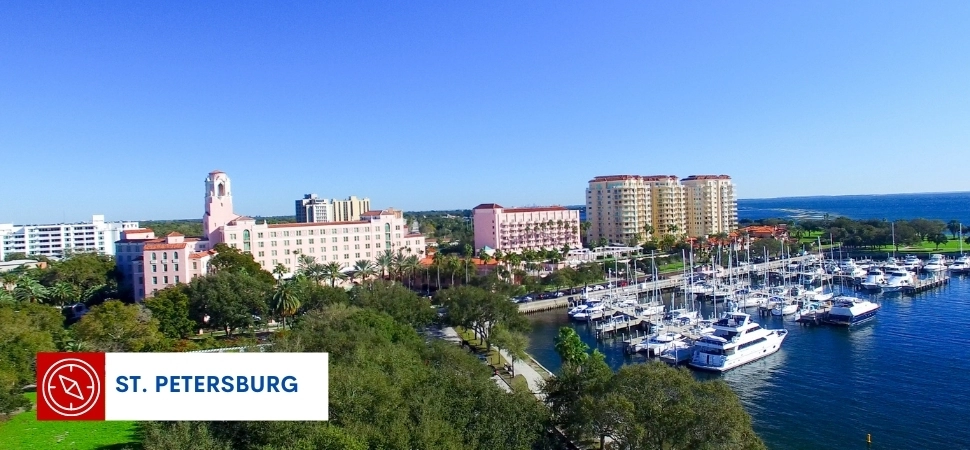 Clutching the world record of Guinness for most of the successive sunbeam days, St. Petersburg entertains all types of travelers and visitors. Nicknamed as the "Sunshine City,'' gives the visitors a distinctive traditional combo of gateway of one of the best beaches in Florida and the flavor of Urban. The town provides spectacular views of nightfall while resting on the white sandy beach. Not only this, the 7 miles of waterfront park attracts the visitors to take delight in hordes of activities that include kayaking, camping, and hiking as well. The ongoing incentive pledges an expansive experience of culture; then it's through the Dali-Museum or the Museum Of Fine Arts. over thousands of events are organized in the city every year that include everything ranging from St. Anthony's Triathlon to Rib fest. All the events took place downtown, boasting shops, restaurants as well as pubs of craft beer that opened after nightfall. Along with all this, the infused city of sunshine is a unique known spot for all visitors. Teeming wildlife, serene outdoors will be loved by every family; the younger ones will have a lot to do downtown entailing the highly-spirited nightlife.
Find Best Hotels in St. Petersburg

Also read: The 20 Best Places To Go In Arizona

Naples: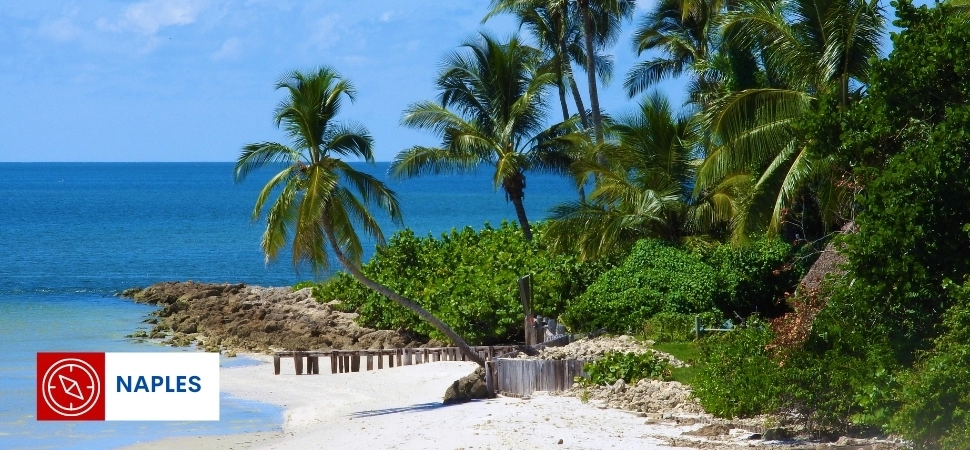 The most sophisticated romantic and one of the best places to visit in Florida is Naples, with all luxuries and relaxation. The spot is along the Paradise Coast of Florida and is popular for the white sand beaches with extraordinary courses of golf, high-class shopping malls, as well as gourmet restaurants and eateries. Especially nearby Fifth Avenue South and Third Street South. It doesn't end here; if you are a lover of flora and fauna, then this place is for you! Hypes have access to all sorts of natural attractions such as; Naples Zoo, Clam Pass Park, and the Naples Botanical Garden as well. But, don't forget to hit the Baker Museum or art galleries of the city if you appreciate art.
Key West
One of the most vibrant destinations for Florida vacation is the Florida Keys. Most of the visitors pop on this island to have a look at the southernmost part of the continental U.S. The spot is renowned for the locals who are free-spirited, having a striking and lively home of conch-style as well as coral reefs that are fit for scuba diving and snorkeling; if you are a bibliophilic person, then you will love to visit Ernest Hemingway Home and Museum where you can get to know about the popular writers and look for the progeny of Snow White, his six-toed cat.
Miami Beach: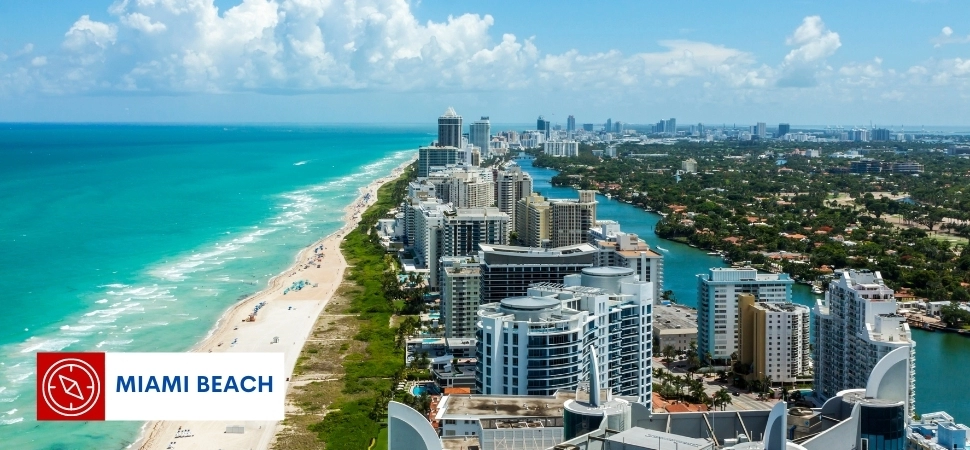 There might be scanty places that can beat Miami Beach, the most flamboyant and electrifying spot. On South Beach, from architecture to art deco architecture to scantily garbs beach lovers, the offshoots of Miami entice every kind of hypes from larks to nocturnal. Make sure you're carrying your credit cards with you, as these super trendy dance clubs and restaurants are not a bang on your bucks.
Find Best Hotels in Miami Beach
Also read: Miami - The Magical City!

Sanibel Island:
What could be better words than "modest" and "whimsical" to portray the Gulf Coast Island. Sanibel island renders a free and easy surrounding, well renowned because the less bustled beaches with reams of seashells are all reasonably priced.If kids get wreck, explore J.N. "Ding" Darling National Wildlife Refuge to espy birds such as herons, ospreys, and roseate spoonbills.
Find Best Hotels in Sanibel Island

St. Augustine:
In the U.S., the former continuously inhabited European settlement of Europe, founded in 1565 by Spaniards, St. Augustine, nicknamed as The Ancient City, history freaks are making a beeline. There are loads of seaside buildings as well as monuments in St. Augustine. This city's history is still alive, from the pedestrian-chummy street of St George to the Castillo de San Marcos National Monument.
Find Best Hotels in St. Augustine

Destin: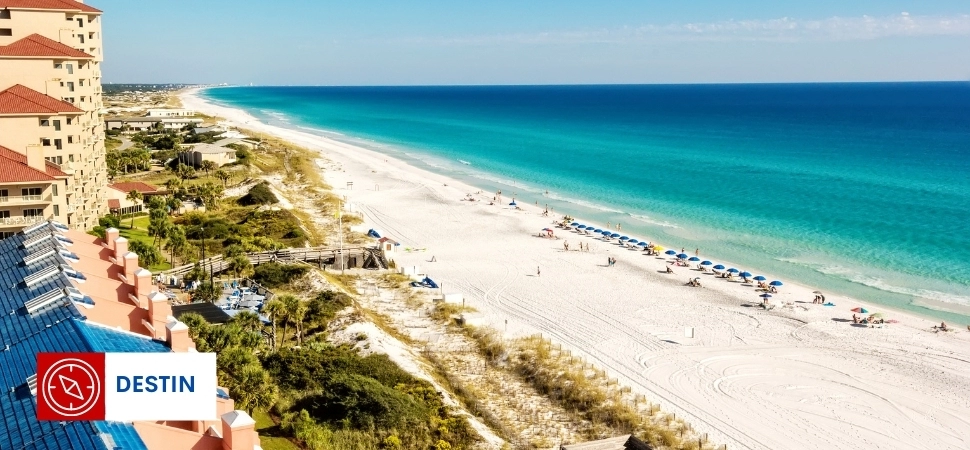 Located at the Emerald Coast of Panhandle, Florida, Destin is a home for myriads of vacationers in summer. The unique, drop-dead perfect white gleaming sand composed of Appalachian quartz and its turquoise shining water makes the beaches of Destin the best in both worlds. What's more? You will get a feel of a small town with manicured courses of golf, idyllic conditions for fishing, as well as shops and restaurants lining up with the sidewalk area that keep drawing the attention of tourists towards them.

Find Best Hotels in Destin

Everglades National Park:
Everglades National Park, Florida, is home to many alligators and is one of the best places to visit Florida. The fame of Florida beaches is equal to the fame of alligators in this spot. More animals are respiting here, like manatees and panthers other than alligators that steal the heart of hypes, as this park is the colossal subtropical wilderness. This spot also promises some trails and guided tours to navigate its whacking area of about 1.5 million acres. Make sure to pop in between November and April to relish in the lower temperature with few mosquitoes increasing the probability of catching the sights of wildlife.

Fort Lauderdale:
Sun, sand, shopping make the best combo, but will it be exciting if you get them in one place? Fort Lauderdale's for you, the best Florida vacation destination! One of the best worth seeing in Florida is palm trees lining up at the beach with 165 miles of waterways and canals. And that's exactly why this spot is nicknamed Venice of America. If you are impatiently looking to get outside in some retail therapies, head towards the of the whacked outlet malls in the country; Las Olas Boulevard and in The Galleria mall and Sawgrass. Make sure to check out the flourishing and prosperous art scene, specifically in the FAT Village area of downtown and the MASS District.
Find Best Hotels in Fort Lauderdale

Fort Myers:
One of the most outright unwinding spots in Florida is Fort Myers. This town is greatly celebrated for its shedload of parks as well as nature reserves; Manatee Park and Calusa Nature Center & Planetarium are the best ones. There's more in the area than nature-centered happenings. Fishing is consistent as one of their hobbies they do. The sports fans brim over the area in March to feast their eyes in Boston Red Sox and the Minnesota Twins, teams of baseball, carry out their spring pieces of training. Also, the city calls on the history lovers where they get soaked up by the historic Edison and Ford Winter Estates set up by the American inventors Thomas Edi6and Henry Ford.
Find Best Hotels in Fort Myers

Amelia Island:
A big thanks to the historical charm of Amelia Island and 13 miles of uncrowded beaches, resting at about 30 miles northeast of Jacksonville, that make this island a top spot for vacationers. Bimble through the river of historic Downtown Fernandina Beach where pirates used to traipse and the industry of modern shrimping was taken place. What's more, for more fun-packed liveliness yet tranquilizing activities, hop on for the horseback rides along the coastline or come into a play by golfing on one of the highly regarded courses on the island.
Find Best Hotels in Amelia Island

Key Largo:
Let's dive into the home of the coral reefs!
The dive capital of the world, Key Largo, is the only place where living coral reefs are resting, in the entire continental U.S. but, there's a lot more fascinating and amazing here like the undersea park and underwater hotel. Yes! The country's first park and world's only hotel that is merely available by scuba diving. Not only that, for other aquatic activities, the prime spot is the colossal island in the Florida Keys, such as deep-sea fishing, windsurfing, snorkeling, as well as glass-bottom boating. Don't miss grabbing a bite at one of the restaurants of Key Largo or relaxing with a spa treatment, but for this, you have to trade your sea legs!
Cocoa Beach
From space fanatics to sun-seekers, Cocoa beach welcomes everyone. If you to catch a sight of NASA's Shuttle and launch pads, then head to Kennedy space.
Ron Jon Surf Shop, one of the most whack shops in the world in the Northern part, is one of the best places in Florida where enthusiasts can surf. Don't forget to check out the bioluminescence tours of kayaks of the waterway areas or play games on the sand at the beach beside the Westgate Cocoa Beach Pier.
Find Best Hotels in Cocoa Beach

Clearwater Beach: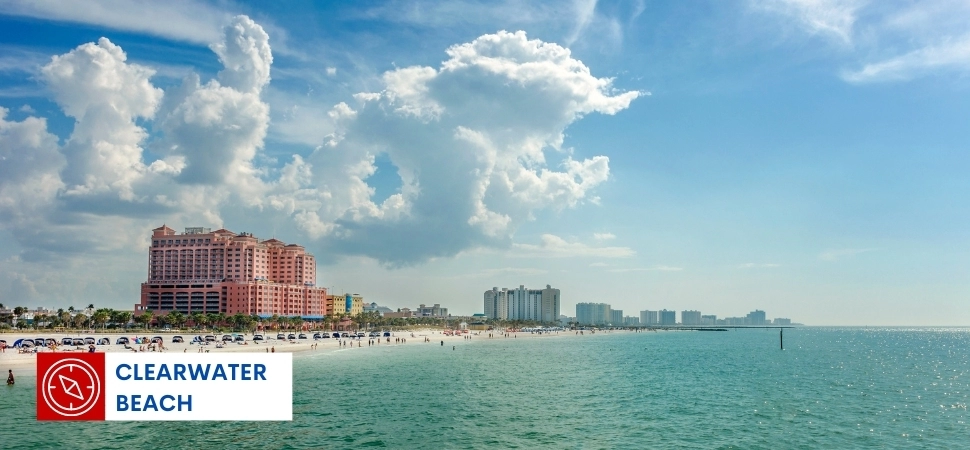 Bewitching white sand, turquoise water with a light small-town vibe can only be found at Clearwater beach. This spot is considered an idyllic destination for family vacations. To boot, capture a snap of the city in the mid of your tour on a Segway or helicopter before hitting Pier 60 to capture the twilight, also get your hands on locally created craft, and get a load on diverse street performances. If you want to have a whale of a time, then hit up the Clearwater Marine Aquarium, the whopping attraction of the area, where you can catch the Winter and Hope -the two start from the Dolphin Tale movie- live.
Find Best Hotels in Clearwater Beach

Boca Raton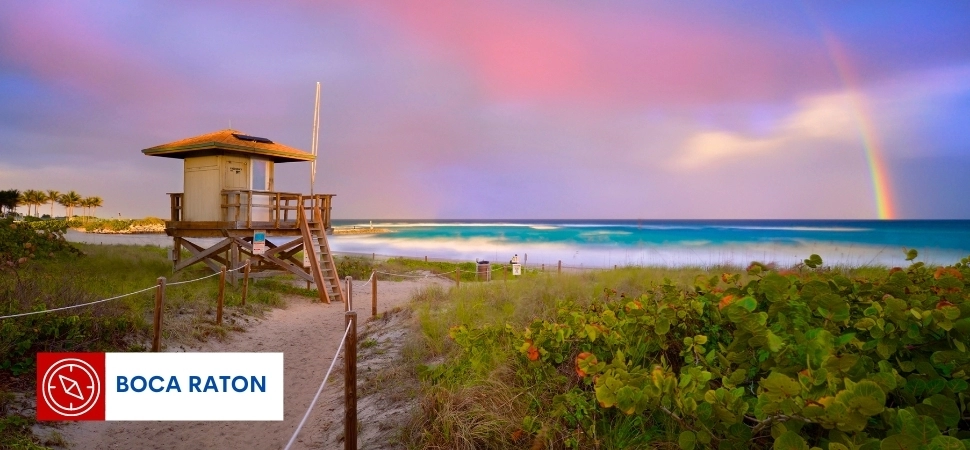 One of the best Palm Beaches in Florida, Boca Raton, offers everything that suits the hype's taste. This spot embraces a park called Sugar Sand Park that suits all ages, boasting natural trails, a scenic center, a theater, as well as a carousel. There are more must-see attractions like the Gumbo Limbi Natural Park, where visitors can saunter by way of the butterfly garden, and further you will catch sight of outdoor aquariums as well as a Mizner Park that boasts an art museum, a movie theater, and loads of stores and restaurants.
Find Best Hotels in Boca Raton

Vero Beach: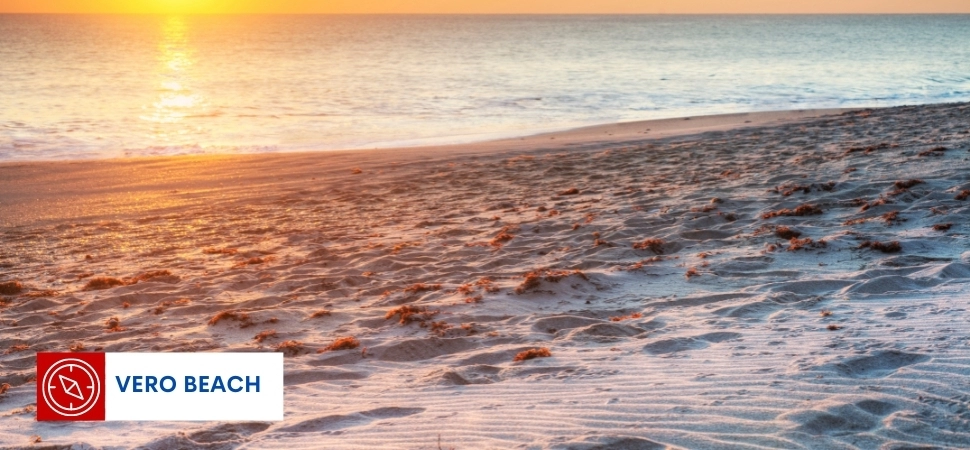 Vero Beach, located on the Atlantic coast in Florida, is an outstanding spot for blissful and hush getaway, as well as one of the best beaches in Florida. Its pleasing halcyon, secluded beach is utopic for sunbathing and swimming with some lands of sands such as Sea Grape Trail; this spot even promises to gaze at the sea turtle nests but during May and October. For an unwinding meander with some picturesque wildlife, hit the Pelican Island National Wildlife Refuge or McKee Botanical Garden. Don't miss local courses of golf, chase the show at the Vero Beach Museum of Art, as well as flavor fresh seafood at a waterfront restaurant.
Find Best Hotels in Vero Beach

Panama City Beach:
It is said that Panama Beach will never let you bored because this beach offers everything to everyone. Boasting 27 miles of white sand beaches that are waiting for exploration. Whether day or night, you can enjoy it at both times; Gulf World Marine Park and Shipwreck Island Waterpark are the best family pally fun-packed places. Meanwhile, at night, for adults, there are ample beach bar towns, live music venues, and dance clubs to entertain them. One more noticeable element is the weather that is always too good to be true, no matter when you visit.
Find Best Hotels in Panama City Beach

Marco Island:
Among the myriads of islands in Southwest Florida, the gigantic one is Marco Island. This island is a harbor for water sports, boating, fishing as well as kayaking. The balmy blue and white gleaming sand attracts the visitors to swim, sunbathe. Seashells in ample quantity reside here, so if you are a seashell collector, here you go! If you want to avoid tans, then you can head to the Island Historical Museum, where you can find the history of ancient Calusa Native Americans.
Find Best Hotels in Marco Island

In a nutshell, a place like Florida will definitely throw you into the confusion where the bulk of destinations reside. But, the best beaches in Florida make it an outstanding spot for tourists. This state also has more golf courses than any state of America. Florida is near to the equator the stronger sun rays it receives, and that's why it is considered as the hot state among all! But hitting the beaches without any hitches in the sun with the shiny emerald waters excited the hype to bulge in the place.
Tags: