Capital of the southwestern U.S. Arizona state, famous for its all-year-round warm temperature and sun, Phoenix is also called the Valley of The Sun. This sprawling city has top-notch resorts, golf courses, and striking nightclubs. The famous attractions of this city are Desert Botanical Garden that showcases the cacti and several native plants. It is widely popular for its high-end hotel resorts, deserted gardens, elaborated pools, luxurious spas, southwest-infused fine dining, and more. This city has all to keep you engaged for long hours. The top-rated attractions and hotels near Phoenix Airport have pushed this city among the fastest-growing cities. Most visitors love this place simply because of its endless outdoors. They also love playing golf here as this city is top-rated for the round of golf. Also, you will discover the best hiking, biking, and climbing opportunities as well.
So, let's dive deep into this city and explore what it has to offer!

Thing To Do And See:
Phoenix is overbrimming with countless spots to visit, but few of them are just beyond infinity. You can't just describe the beauty of those places in words-you have to see it in person. But, still, we have tried our best to take you on a virtual tour of these places. So, come!

Musical Instrument Museum:
If you are an extreme lover of music, there's no better place for you than the Musical Instrument Museum. It is one of the largest of its kind in the entire world. It boasts 800 instruments from around 200 territories and countries. It is set in impressive buildings that feature five permanent art galleries, including Geographic Gallery, the Artists Gallery, the Mechanical Music Gallery; the STEM Gallery; and the Experience Gallery. Here you can also play some of the instruments. This museum also hosts live music from countries around the world.

Taliesin West:
The Architectural School and winter home of the famous architect named Frank Lloyd Wright, nestled in Scottsdale, Taliesin West, is worth a visit. It is situated in the McDowell Mountains foothills and a must-visit place. Even if you have a low interest in architecture, this place will change your mind. The buildings are constructed with rubblestone and redwood.

Desert Botanical Garden:
If you want to see art and nature together in one place, Desert Botanical Garden is the best choice for you. It is a beautiful 140-acre complex with art installations dotted the gardens adding another spark into this beautiful spot. Myriads of plants showcasing examples of vegetation from around the world are houses in this garden. If you luckily spot hummingbirds and butterflies, the charming sparks add to your journey, making it a lifelong memory.

How To Get Around In Phoenix?
If you are under the hood of Phoenix and don't know where to go, you don't have to worry. Because we have brought you the few best options by which you can easily get around to your favorite spot. Look Below!

Car:
As the parking in Phoenix is abundant and convenient, getting around your lovely spot by car is the best way. The people who live in the city just love their car; you can easily see why. So, rent your car and get on the road, leading to your favorite spot.
Bus:
If you are looking for an inexpensive way to travel around, buses are the best option for you. Valley Metro operates the city buses. You will effortlessly reach your place within no time so, just hop on!
Taxi:
If your plan is not to go far from your resort, taxis are the best choice. You can solely travel around and discover new places. You can also plan your night scenes as they are handy. Uber and Lyft also work in Phoenix.

Best Hotels to Book for Your Trip:
Choose the best hotel, suite, or inn for you and let your visit be hassle-free. We have created a list of the best Phoenix Hotels, for you. So, read on!

Drury Inn & Suites Phoenix Airport: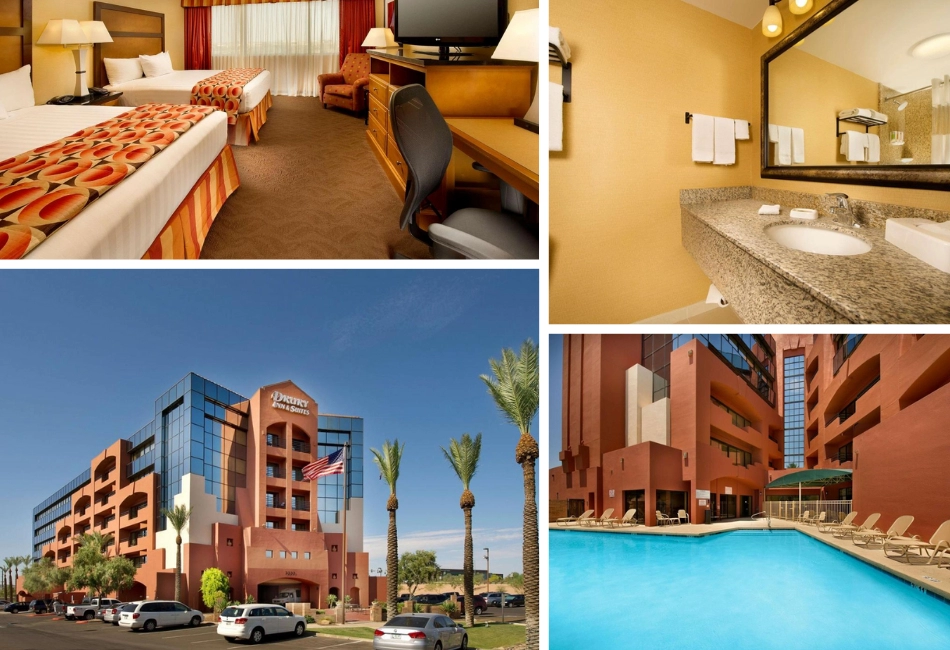 Welcome into the happy valley! Drury Inn & Suites Phoenix Airport brings you the top-most amenities and services. Enjoy the freebies such as Wi-Fi, breakfast at the impeccably clean hotel. Get a body massage in the Jacuzzi, or simply soak up yourself in an outdoor pool to get rid of all tiredness. Adore the on-demand movies on the DVD player while guzzling all the snacks from the refrigerator.
Book Drury Inn & Suites Phoenix Airport

La Quinta Inn By Wyndham Phoenix Sky Harbor Airport: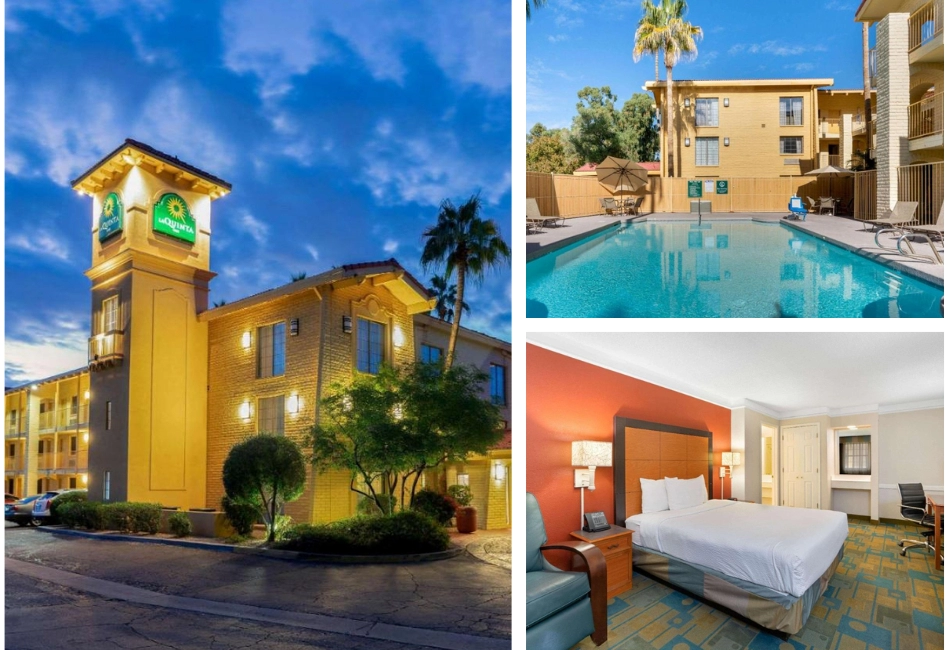 One of the most dazzling hotels in Phoenix is La Quinta Inn By Wyndham. Phoenix Sky Harbor Airport offers a bright stay with your pets. This hotel has everything that you need for a productive trip. Enjoy a dive in an outdoor pool and then relax in your smoke-free comfort-filled rooms with a sip of coffee or tea, whatever you prefer. Catch a basketball game or enjoy your fav program on a flat-screen HDTV.
Book La Quinta Inn By Wyndham Phoenix Sky Harbor Airport

Radisson Hotel Phoenix Airport:
Take a free shuttle to Radisson Hotel Phoenix Airport and unwind yourself in a heated outdoor pool. Refresh yourself with the drinks and a meal in the Lobby Bar, or quaff coffee in front of the fireplace in the lobby. Opt for a workout to re-energize yourself at a fitness center.
Book Radisson Hotel Phoenix Airport

Hilton Garden Inn Phoenix Airport North:
Come to this hotel via a free shuttle and enjoy their mind-boggling services. Get dolled up for a party from the spa or head to the fitness room to burn out some calories after devouring the yummilicious food at one of the on-site restaurants. Relax in the non-smoking rooms of this hotel and sleep tight on the feathery beds.
Book Hilton Garden Inn Phoenix Airport North

Crowne Plaza Phoenix Airport:
Visit this renovated hotel to find an escape from the bustling city located in the heart of Phoenix and recharge your batteries in one of the best guestrooms overlooking the city. Experience Southwestern Culinary and stands out services. Lounge at the poolside and soak up the warm rays of the sun and order a crafted margarita. After an eventful day, retreat to your room and rest easy on king-sized beds. Enjoy the premium channels on cable television and complimentary Wi-Fi.
Book Crowne Plaza Phoenix Airport

Summing up, no matter what you are looking for, you are always free to find that matches your preference. This valley of the sun has everything that will compel you to visit once in a lifetime. Make countless memories in Phenix and let your soul experience a new definition of fun. From the best shining attraction to the best hotels near Phoenix airport, you are sure to find everything! So, get ready to taste your soul the new adventure and adrenaline-pumping activities. Hop on a plane and enjoy the vacation of your lifetime.
Tags: