Savannah - A ghost city and popular Halloween Destination
Savannah, a city of Georgia, has both sides, i.e., both a necropolis which is a historical graveyard or cemetery featuring some of the most haunted and ghostly areas of the United States and world welcoming City that serves a variety of its local delicious food and numerous entertainment and amusement options including its many yearly events. People who are traveling here for its history will definitely adore many tours and events here!
You can also find here within the Olden horse-drawn carriages being used as a means of commute till today. Wander around the City and taste its local cuisines from many award-winning restaurants, bakeries, and food markets. People who love nature will find this place as the paradise ground of hiking and biking along the Tybee and Whitemarsh Islands. The music festivals held here are one of its greatest attractions in the state of Georgia as it blows in a new soul in it. And if you ever want to travel to this place for its haunted sites showing a list of paranormal activities, then you can go to the Bonaventure Cemetery or the famous Gribble House.

When to visit Savannah, Georgia?
Savannah is a great place to go for its winter as it really gets that much chilly here. The temperature here is a perfect depiction of the mid-fifties. A great Halloween destination, this historical City gets a bit Spooky. The ghost tours here are basically its topmost attraction, and haunted areas are popular all year round. If you have decided to travel to Savannah during its summer, you should acknowledge that the City has quite humid weather temperature and can cause obstacles in your way. Hence a much better way to enjoy your trip here is to travel along spring and fall.

Things to know before you go around:
Savannah is a medium-sized city; however, the visitors and tourists here never go ahead of the historic district. This doesn't mean that the rest of the regions of Savannah lacks places worth visiting. The main reason for this is that the historic district has most of the regions of Savannah that particularly give it fame. The rest of the regions of Savannah, besides the historic district, are a great way to avail best of the cuisines prepared in nearby hotels.
Savannah is a place where you can get history and paranormal activity at the same time. This city tends to entertain people for its haunted tours and various Spooky places to look for.
The people here have a true spirit of Southern hospitality and are quite welcoming to its visitors throughout the year. The sidewalks here are wide, and this city has very few hillsides which makes this place quite enjoyable for people who are disabled or have limitations otherwise.

How to get around the City?
Before we discuss the hotels in Savannah GA, let us first take a look at the means of commute that contribute towards a hassle-free tourism experience:

Via Buses and Trains:
Savannah does not have many rail route options; however, there is an Amtrak station where you can avail yourself of the railway lines of Georgia State.
Whereas two bus services are operating in the City of Savannah, i.e., The CAT and the DOT. The CAT bus service not only operates in the City of Savannah but also in the nearby regions of Chatham and the bus fares are $1.5 per single trip, whereas the DOT bus service is free of cost and serves 24 different stops in the historic district of Savannah, Georgia.

Via Ridesharing Options:
The ridesharing option is one of the commonest means of transportation here in Savannah. You can always avail of the services of Uber and Lyft that give you a personalized riding experience in the Suburban region of Georgia at a much better cost. You can also opt for their carpooling services.

Most iconic stays in Savannah – Georgia:
With now that everything is discussed, let's roll into the best hotels near Savannah GA:

Marriot Savannah Riverfront:
Located in the historic district of Savannah, this iconic 4-star hotel is just 1 km away from the city center featuring a luxurious Downtown region flaunting off of the best riverfront views and features an on-site restaurant.

Perry Lane Hotel, a Luxury Collection Hotel, Savannah:
Located in the Downtown region of Savannah, this luxurious 5-star hotel serves its customers with the best of its on-site restaurant and a bar where you can be creative for your cocktails. Exceptional room services and an ATM facility in the hotel make it one of the most comfortable stays in Savannah. This iconic hotel is just 100 meters away from City Centre.

The Bohemian Hotel Savannah Riverfront, Autograph Collection: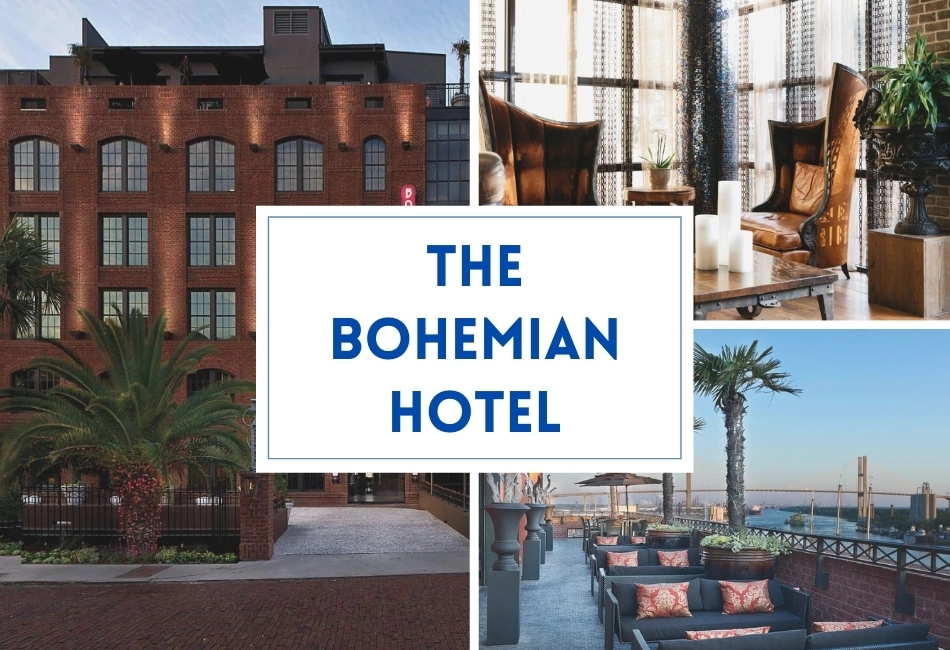 Located in the Downtown region of Savannah and just 900 meters away from the city center, this glamorous 4-star hotel has some of the best riverfront locations and is famous for its nearby regions of Savannah's old town.
Book The Bohemian Hotel Savannah Riverfront

The Alida, Savannah, a Tribute Portfolio Hotel:
This iconic 5-star hotel located in the Downtown region of Savannah and just 1 km away from the city center features a hub of shopping and exquisite dining experience of the city. This region is filled with many entertainment hubs as this hotel is located in the historic district of Savannah.

River Street Inn Savannah GA: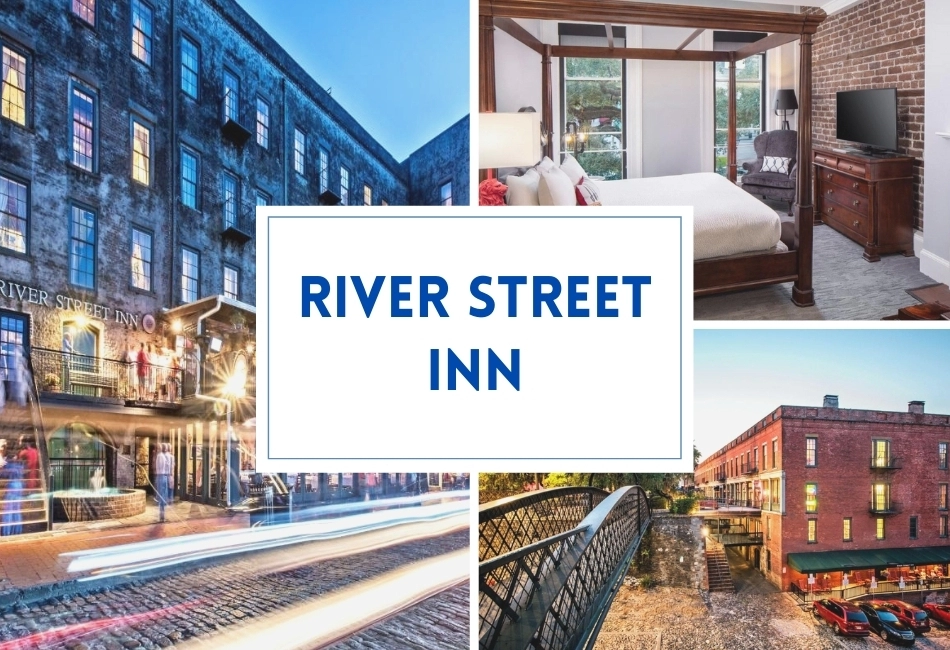 This luxurious 4-Star hotel is another one in its category, which is located in the downtown region of Savannah and is just 700 away from the city centre, providing the best of Savannah River views. Located in the historic district of Savannah, the River Street Inn in Savannah GA hotel features a hub of entertainment in its nearby regions, comfortable guestrooms, and on-site dining options featuring many local and continental cuisines.
Book River Street Inn Savannah

To sum up, the City, Savannah, Georgia, is a great place to visit during its winter season, and the city features its best in the historic district. This is an ideal city to visit for the disabled individuals as they can also enjoy traveling. The riverside areas occupied by hotels are one of the most phenomenal experiences felt by the guests as they get to experience the gushing water flow right in front of their eyes!