Best Romantic Getaways in Texas for Couples
Romantic Getaways For Couples
Ah, Texas! A state is as vast as it is diverse, offering everything from the bustling urban landscapes of Houston and Dallas to the serene beauty of the Hill Country. With its unique geography, Texas serves as a canvas for love, offering a plethora of romantic getaways perfect for couples seeking to escape the mundane.
Couples can indulge in scenic views, enjoy candle-lit dinners, relax in luxurious spas, or take part in adventurous outdoor activities. Imagine strolling along the San Antonio River Walk, watching a film under the stars at Mission Marquee Plaza, or savoring a glass of local wine in Fredericksburg.
Top Romantic Getaways in Texas
Dallas
Dallas, Texas, emerges as a romantic getaway that effortlessly blends urban sophistication with a dash of Southern charm. The city offers a plethora of experiences that cater to couples looking for adventure, culture, or simply a cozy time together.
Start your romantic escapade with a European-influenced breakfast, perhaps at a café where you can indulge in buttery croissants and a robust espresso menu. The city's culinary scene doesn't stop at breakfast; it offers an array of dining experiences perfect for couples. Paradiso, for instance, serves seasonal dishes inspired by Southern Europe, including wood-fired flatbreads and handmade pasta. For those who have a penchant for cocktails, Dallas, as the birthplace of the frozen margarita, offers the Margarita Mile—a unique experience featuring some of the most delicious margaritas in town. Places like Beto & Son in Trinity Groves even serve liquid nitrogen-infused margaritas, adding a touch of drama to your romantic outing.
But Dallas isn't just about food and drinks. The city also serves as a cultural hub where couples can immerse themselves in the arts. The Kessler Theater, an intimate venue, hosts a range of artists, from up-and-coming locals to well-known acts. The theater also occasionally features gallery nights and film screenings, offering a multi-sensory experience that can make your romantic getaway even more special.
For the more adventurous couples, Dallas offers outdoor activities that can get your heart pumping. White Rock Lake, with its 9-mile loop, is perfect for a casual walk or a more intense jog. During the warmer months, the lake also offers kayak rentals, allowing couples to enjoy some time on the water. If you're looking for a more urban adventure, the Deep Ellum district provides a vibrant atmosphere with its grid-like streets filled with murals, shops, and eateries. Whether you're in the mood for world-famous BBQ at Pecan Lodge or street tacos at Revolver Taco, Deep Ellum has something for everyone.
As the day winds down, couples can seek out more intimate settings. City Hall Bistro, located in the historic Adolphus Hotel in Downtown Dallas, offers Southern European-inspired dishes and a cocktail list designed for sipping and sharing. For a more elevated experience, head to The Statler Hotel's rooftop bar, Waterproof, where you can toast to an amazing evening with luxurious cocktails like cucumber mint lemonade or frozen rosé.
Best Time to Visit: Spring and Fall
Special Activities: Dallas Arboretum, Cowboys Red River
The Adolphus, Autograph Collection
The Adolphus, Autograph Collection, situated in the heart of downtown Dallas, offers over a century of award-winning service and luxury. Ideal for romantic getaways, the hotel features boutique accommodations, multiple dining options, and a rooftop pool with stunning downtown views.
Thompson Dallas
Thompson Dallas offers 219 rooms and 52 luxurious suites, making it an ideal romantic getaway. The hotel features three full-service dining options, a boutique spa focused on wellness, and a 9th-floor pool deck with stunning skyline views.
The Joule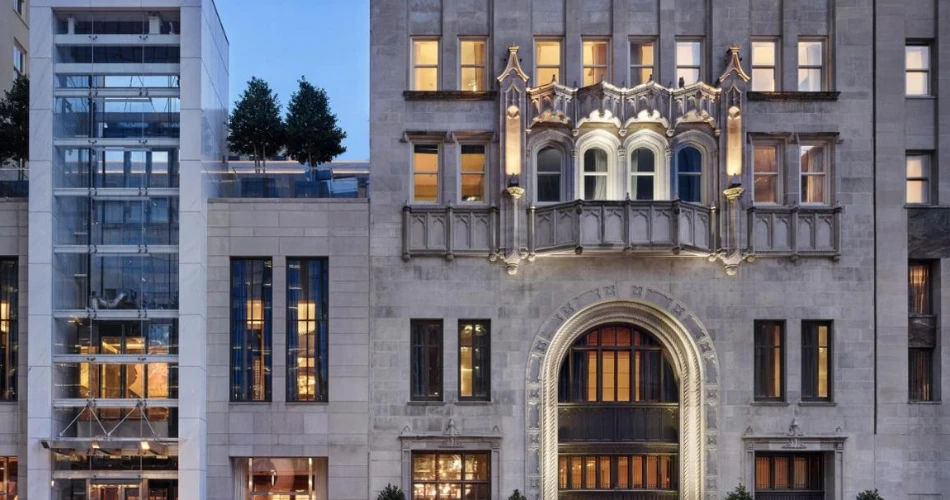 The Joule, located in downtown Dallas, offers a romantic oasis for design enthusiasts and art lovers. This revitalized Neo-gothic landmark combines luxury, culture, and unique experiences, making it an ideal getaway for couples.
San Antonio
San Antonio offers a vibrant city vibe with numerous date-worthy spots. Couples can enjoy a picnic and a movie at Mission Marquee Plaza or take a romantic stroll along the San Antonio River Walk. For nature lovers, the San Antonio Botanical Gardens provide a beautiful backdrop for romance. Accommodation options range from luxurious hotels to charming bed and breakfasts.
Best Time to Visit: Spring and Fall
Special Activities: San Antonio Botanical Gardens, River Walk
San Antonio Romantic Hotels
Hotel Valencia Riverwalk, San Antonio
Hotel Valencia Riverwalk offers a romantic escape in the heart of San Antonio. Located on a tranquil section of the famed River Walk, the hotel provides an ideal balance of action and serenity. Guests can easily access dining, entertainment, and shopping, making it a memorable stay for any occasion.
Thompson San Antonio - Riverwalk
Thompson San Antonio - Riverwalk offers a romantic escape in the city's Arts District, featuring 162 guest rooms and 33 suites with breathtaking views. The hotel boasts a rooftop bar, a signature restaurant, and a luxurious pool deck with cabanas, perfect for couples seeking an elevated, contemporary experience.
The Westin Riverwalk, San Antonio
The Westin Riverwalk in San Antonio offers couples an idyllic retreat on the world-famous River Walk. Its prime location and warm welcome make it a top choice for romantic getaways.
Hilton Palacio del Rio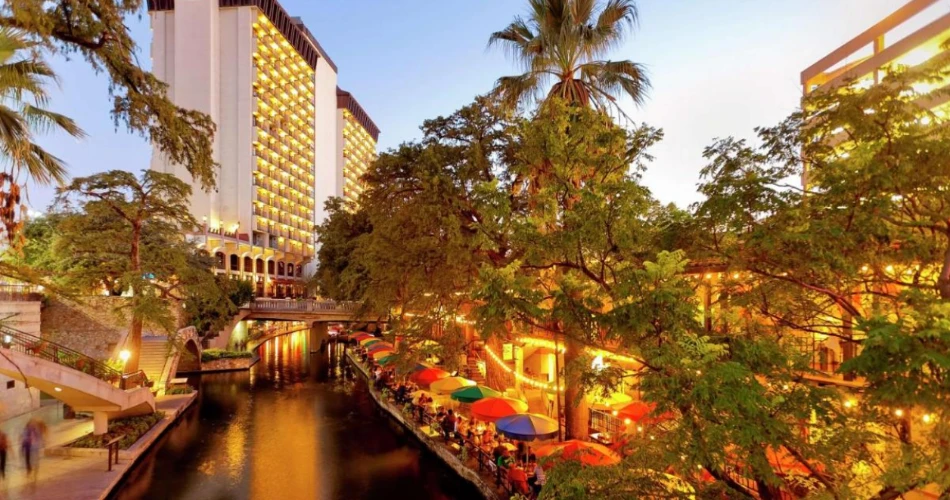 Hilton Palacio del Rio in San Antonio offers a romantic backdrop with its 4-Diamond hacienda-style design. Every room features a balcony overlooking the River Walk or city, setting the stage for an intimate getaway. Within walking distance of dining and entertainment, the hotel also houses the River's Edge Cafe + Patio Bar for cozy meals.
Wimberley
For adrenaline-junkie couples, Wimberley offers action-packed activities like ziplining and cliff diving at Jacob's Well. Dining options include eco-conscious restaurants like the Leaning Pear.
Best Time to Visit: Spring and Summer
Special Activities: Wimberley Zipline Adventures, Jacob's Well
Galveston
Looking for a destination that's got it all? Look no further than Galveston! This charming city is a romantic paradise, where couples can find tranquility by the sea. But wait, there's more! Get ready for a dose of history, breathtaking sunset cruises, and gastronomic delights at top-notch restaurants like Vargas Cut & Catch. Galveston: where love meets adventure and creates the perfect romantic gateway!
Best Time to Visit: Late Spring to Early Fall
Special Activities: Sunset cruise, Strand Historic District
Galveston Romantic Hotels
The San Luis Resort, Spa and Conference Center
The San Luis Resort, Spa & Conference Center in Galveston captivates couples with its AAA Four Diamond rating, award-winning dining, and luxurious spa. The resort boasts a heated pool and stunning gulf views, making it a romantic getaway for two.
The Tremont House Hotel
Nestled in Galveston's Strand Historic District, The Tremont House Hotel offers a romantic escape with easy access to local attractions. Guests enjoy luxurious rooms, gourmet dining options, and intimate bars, making it a perfect getaway for couples.
Harbor House Hotel & Marina at Pier 21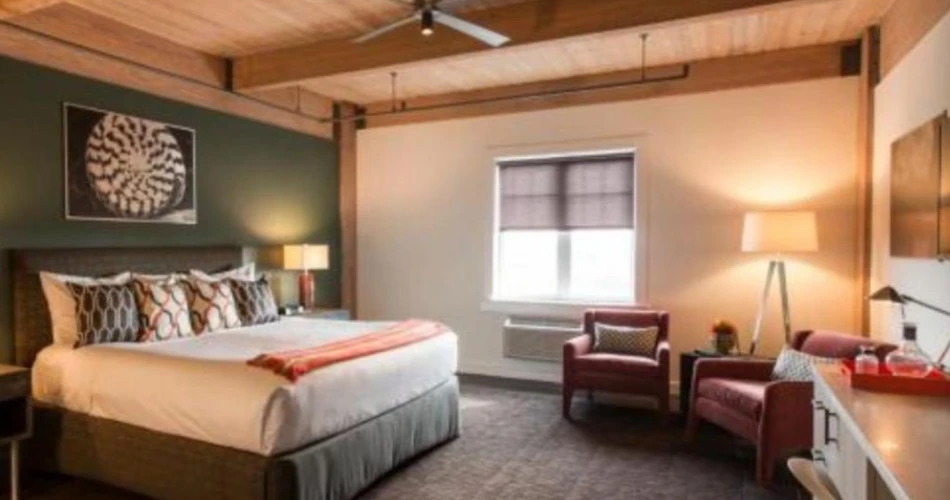 Harbor House Hotel & Marina at Pier 21 offers a romantic setting in Galveston, Texas, with stylish guest rooms and unique harbor views. Located near the Strand Historic District, the hotel provides easy access to shops and seafood restaurants, making it an ideal choice for couples seeking both adventure and intimacy.
Grand Galvez Resort, Autograph Collection
Located on the Gulf of Mexico, Grand Galvez Resort, Autograph Collection is a romantic escape just minutes from Central Galveston. This luxury resort offers a full-service spa, outdoor heated pool, and rooms with beach or city views. Guests can savor fresh seafood at the on-site Galvez Bar & Grill with stunning water views. Enjoy free WiFi, concierge services, and a fitness center for a complete experience.
Grapevine
Just 30 minutes from Dallas, Grapevine offers its own romantic charm. Activities include picnicking at Grapevine Lake and wine blending at Wine Fusion Winery. Accommodations include cozy cabins and luxurious hotels.
Best Time to Visit: Spring and Fall
Special Activities: Grapevine Vintage Railroad, Public Art Trail
Grapevine Romantic Hotels

Gaylord Texan Resort and Convention Center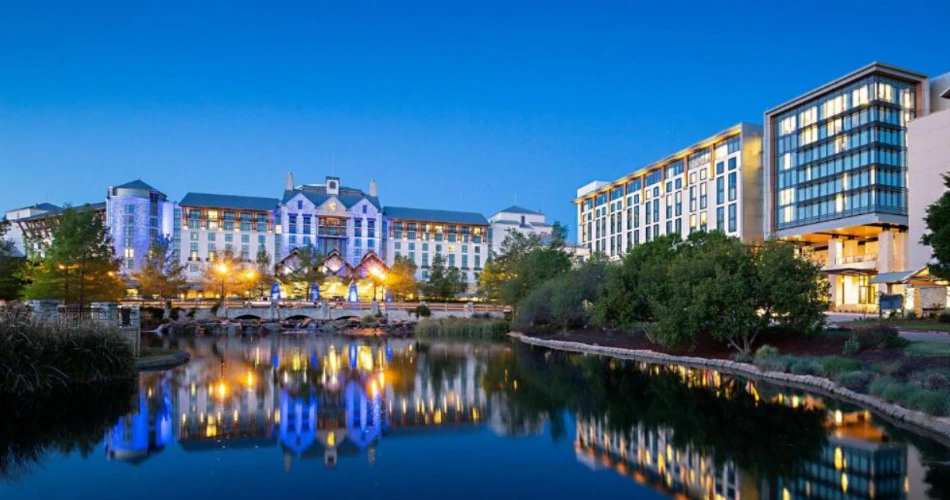 The Gaylord Texan Resort and Convention Center is a romantic getaway in Grapevine, just 6 miles from Dallas/Fort Worth International Airport. Couples are enchanted by the 10-acre outdoor pool facility, European-style spa, and stunning atrium. Indulge in culinary delights at six on-site restaurants, including the upscale Old Hickory Steakhouse and Italian-inspired Zeppole. The lively Glass Cactus Nightclub boasts four bars, live music, and a two-story deck.
Great Wolf Lodge Grapevine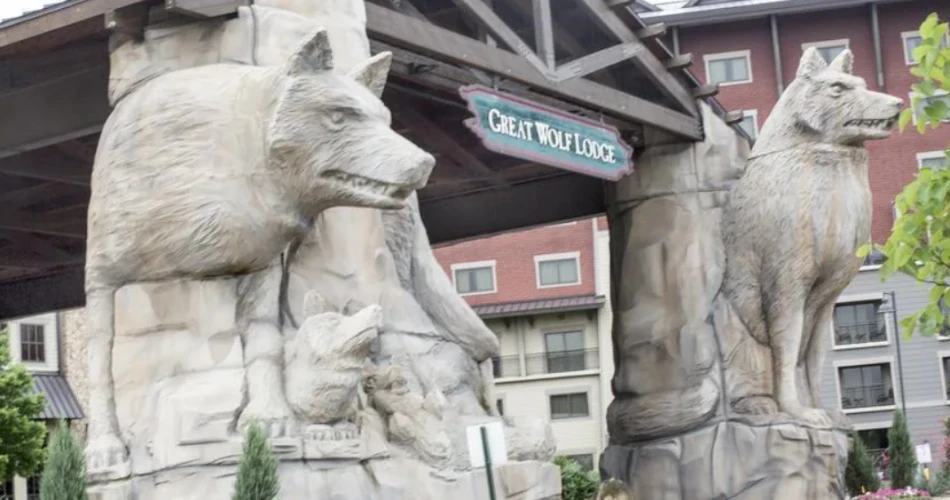 Great Wolf Lodge Grapevine offers a romantic escape in the heart of Grapevine, Dallas. With its 3.5-star rating, the hotel provides luxurious amenities like on-site massages, a restaurant, and a hot tub. Free car parking and Wi-Fi add convenience, making it an ideal choice for couples seeking both relaxation and adventure near local attractions and dining options.
Fredericksburg
This charming small town is perfect for a secluded weekend. Couples can stay in romantic cabins like the Wild Ram Log Cabin and enjoy activities like peach picking and wine tasting.
Best Time to Visit: Spring and Fall
Special Activities: Enchanted Rock State Park, Main Street concerts
Austin
Austin, the capital city of Texas, emerges as a romantic haven, blending urban sophistication with natural beauty. It's like the perfect love story unfolding!
In this enchanting city, couples can indulge in a plethora of activities that cater to diverse romantic tastes. From intimate dining experiences to adventurous outdoor escapades, Austin has it all. It's like a buffet of love, where you can feast on unforgettable moments!
For those seeking relaxation and pampering, Austin's wellness scene is a dream come true. Picture this: a secluded wellness resort overlooking Lake Travis, where you can rejuvenate at an award-winning spa. It's pure bliss, with a sprinkle of magic!
Now, let's talk about food. Austin serves up a culinary landscape as diverse as its culture. From elegant steak houses to cozy cafes, it's a gastronomic adventure that will leave your taste buds dancing!
But wait, there's more! Austin also offers outdoor activities that will make your heart skip a beat. Picture romantic hikes along scenic trails and leisurely walks with breathtaking views. It's nature's way of saying, "Love is in the air!"
And for that nostalgic touch, why not enjoy a classic movie night at a drive-in theater? Snuggle up under the Texas sky and let the magic of cinema transport you to another world. It's like a reel of romance unfolding before your eyes!
Let's not forget about wine and spirits. Sipping and savoring in Austin is an experience like no other. Imagine tasting exquisite whiskeys and gins, or indulging in wine tastings in a cozy setting. It's a toast to love and all the good things in life!
For the competitive souls, Austin has got you covered with golfing options that will add a playful twist to your romantic getaway. It's like a friendly battle of love on the greens!
And if you're looking for the ultimate escape, Austin's luxurious resorts are here to make your dreams come true. Taste wines, dine at a brewery, and enjoy live music - it's a symphony of romance!
So, whether you're a hopeless romantic or a love adventurer, Austin is the perfect backdrop for your love story. Get ready to create memories that will last a lifetime in this enchanting city of love!
Best Time to Visit: Spring and Fall
Special Activities: Lady Bird Lake, Blue Starlite Drive-in theater
Austin Romantic Hotels

Fairmont Austin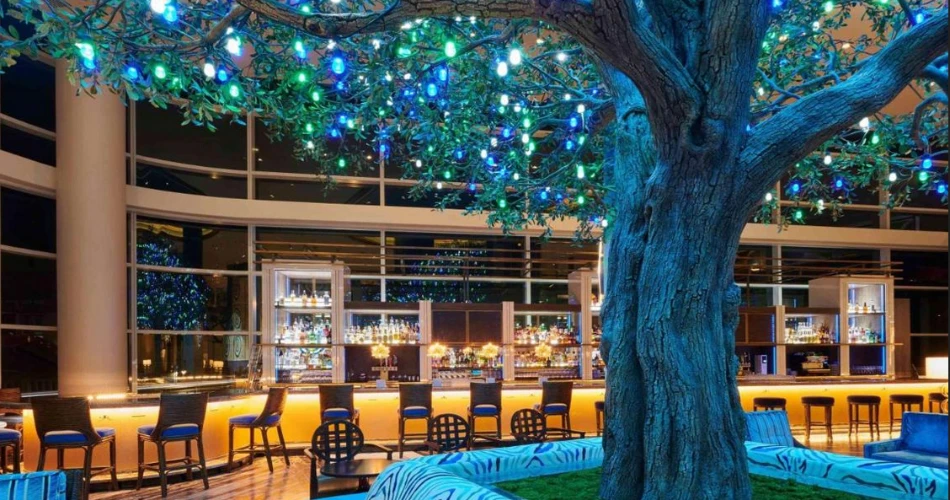 Fairmont Austin stands as a romantic oasis in the heart of Austin, Texas. Located near Historic Rainey Street and lively Sixth Street, this Forbes Four-Star property offers 1,048 lavishly appointed rooms and suites. Guests enjoy picturesque views of Lady Bird Lake and the State Capitol while indulging in exquisite dining and an award-winning spa. The hotel seamlessly integrates Austin's famed music scene and diverse artistic lifestyle, making it an ideal choice for couples seeking a luxurious and culturally rich getaway.
Hotel ZaZa Austin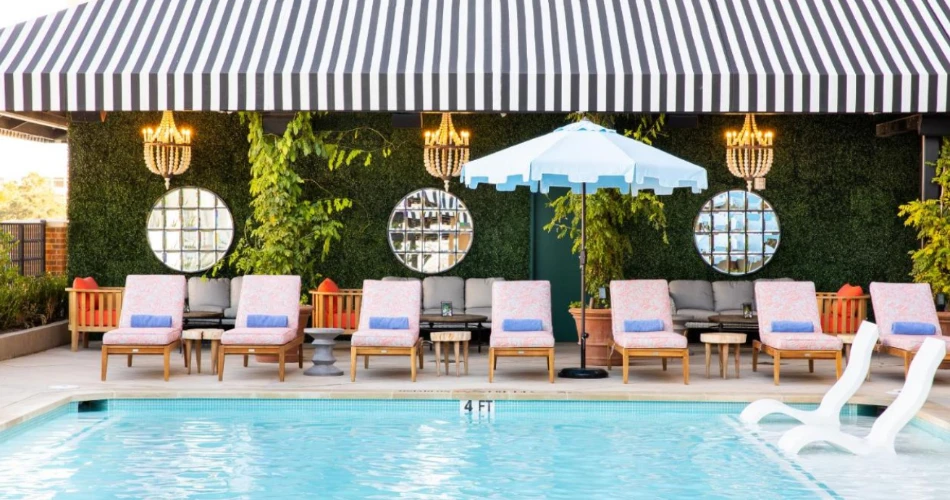 Hotel ZaZa Austin stands as a romantic oasis in the bustling heart of downtown Austin. Offering 4-star accommodation complete with an outdoor swimming pool and sauna, the hotel provides an intimate setting for couples. Nestled just 500 meters from Shoal Beach and within 700 meters of the city center, it places guests amidst world-class dining and entertainment. The on-site restaurant serves American cuisine with vegetarian, dairy-free, and kosher options, adding a personalized touch to romantic getaways. With unparalleled comfort, style, and free WiFi, Hotel ZaZa Austin makes for an idyllic romantic retreat.
Archer Hotel Austin
Archer Hotel Austin offers a romantic experience in the heart of The Domain, a high-end fashion and culinary hub. With 171 luxe guest rooms and suites, a vibrant hotel bar, and a dedicated staff, it's steps away from 220+ retailers and restaurants, making it an ideal destination for couples seeking luxury and convenience.
Houston
Houston, known for its bustling city life and industrial prowess, surprisingly offers romantic getaways that can rekindle any relationship. Far from just an oil and gas hub, the city serves as a sanctuary for couples seeking intimate moments and unique experiences. Whether it's the tranquility of nature or the allure of fine dining and entertainment, Houston has something for every couple.
For example, the Houston Arboretum and Nature Center, located just four miles from Downtown Houston, provides over five miles of nature trails where couples can escape the city's hustle and bustle. The arboretum offers an immersive experience with its Discovery Room featuring interactive exhibits about local wildlife. Here, couples can lose themselves among hummingbirds, butterflies, and beautifully curated gardens.
For those seeking a luxurious escape, the Houstonian Hotel offers a spa experience that epitomizes relaxation. With 21 treatment rooms, including a special couples' room, the spa provides various treatments that promise to melt away stress. The lounge features a fireplace and an indoor float pool, setting the stage for ultimate relaxation.
If adventure and a change of scenery are desired, FantaSea Dinner Cruises offers a unique dining experience along the Gulf, providing breathtaking views of the Texas sunset. Themed dinners ensure the experience remains a lasting memory.
For a nostalgic touch, the Showboat Drive-in Theater offers an old-school movie experience. Couples can enjoy a film under the stars, complete with snacks and popcorn from the snack bar.
Kemah Boardwalk, located 20 miles from Downtown Houston, offers a variety of activities, from amusement park rides to waterfront dining. Couples can choose from a range of experiences, whether it's the thrill of a roller coaster or a quiet dinner overlooking the water.
For a laid-back outing, Waterwall Park provides the perfect setting for a picnic. Couples can set up by the Waterwall, surrounded by oak trees, enjoying quality time in a picturesque location. Similarly, the James Turrell Twilight Epiphany Skyspace offers a unique light show at sunrise and sunset, providing a one-of-a-kind backdrop for a romantic evening.
Wine aficionados will find Haak Vineyard, located 25 miles from Houston, an ideal spot for a romantic day out. The vineyard offers tastings and tours, providing an intimate experience that couples will cherish.
Best Time to Visit: Fall and Spring
Special Activities: Houston Symphony, Waterwall Park Houston
The Lancaster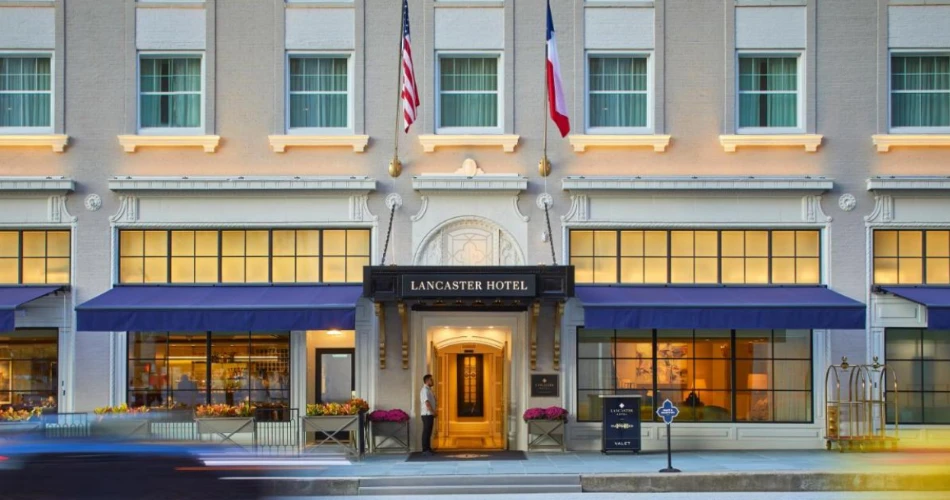 The Lancaster Hotel, nestled in Houston's bustling Theater District, epitomizes romantic luxury with its Regency-inspired design and nearly 100-year legacy of exceptional service. Guests revel in intimate settings, personalized service, and lavish amenities such as Frette linens and Lavin bath products.
Hotel ZaZa Houston Museum District
Hotel ZaZa Houston Museum District offers an unexpected feast for the senses, making it an ideal romantic getaway. Located in the vibrant Museum District and close to the Texas Medical Center and downtown business district, this hotel combines luxury and location seamlessly.
The Houstonian Hotel Club & Spa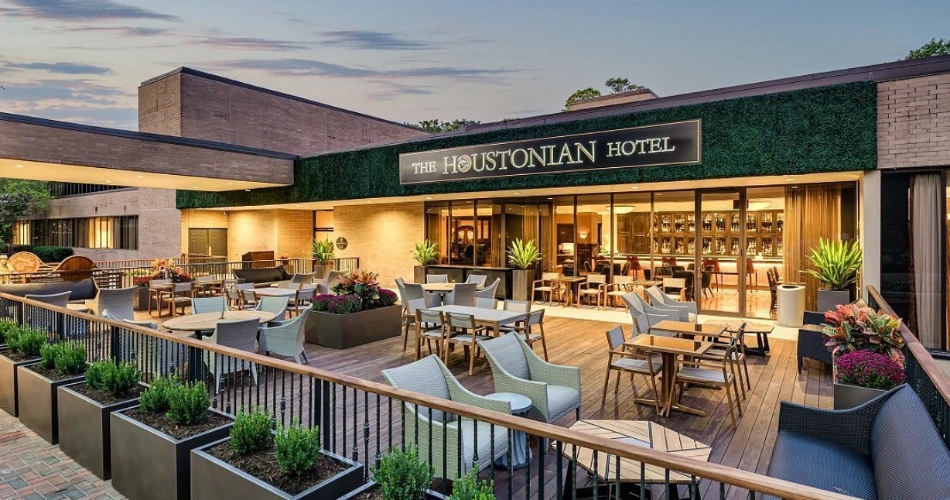 The Houstonian Hotel, Club & Spa, crowned as the No. 1 Resort Hotel in Texas by Travel + Leisure's 2022 World's Best Award, offers a romantic urban escape. Nestled on 27 wooded acres adjacent to Memorial Park, the property boasts newly renovated guestrooms, meandering pools, and legendary restaurants. Guests enjoy complimentary access to the exclusive Houstonian Club and the newly renovated Trellis Spa, complete with outdoor Soaking Pools & Garden. Once the home of President and Mrs. George H.W. Bush, the hotel embodies Texas elegance and Houston's friendly spirit.
Marble Falls
Marble Falls, Texas, serves as an idyllic setting for couples seeking a romantic escape. Nestled in the heart of the Texas Hill Country, this charming town offers a blend of natural beauty, relaxation, and adventure, making it a perfect backdrop for love and connection. With an itinerary that spans four days and includes 13 activities, couples can indulge in a variety of experiences designed to bring them closer.
One of the highlights of a romantic getaway in Marble Falls is the opportunity to explore local vineyards. The town's proximity to wine country allows couples to hop from one wine tasting to the next, savoring the flavors of the region while enjoying each other's company. Whether you're a connoisseur or a casual wine drinker, the vineyards offer a serene setting to unwind and connect.
For those who prefer a more active experience, kayaking options abound. The natural waterways that surround Marble Falls provide an excellent venue for couples to paddle in tandem, taking in the scenic views and perhaps even catching a glimpse of local wildlife. The experience not only offers an adrenaline rush but also provides a unique way to bond.
Adding a touch of luxury to the trip, Marble Falls boasts a range of spas where couples can pamper themselves. From massages to facials, these wellness centers offer treatments designed to rejuvenate both body and spirit. A day at the spa serves as a perfect pause in a busy itinerary, offering couples a chance to relax deeply and focus solely on each other.
As the sun sets, Iron Wolf Ranch presents itself as an ideal location to end the day. The ranch offers a tranquil setting where couples can watch the sunset, perhaps with a glass of locally produced spirits in hand. The experience encapsulates the essence of a romantic getaway—peace, beauty, and a moment frozen in time that belongs solely to the two of you.
Best Time to Visit: Spring and Fall
Special Activities: Art of the Meal cooking classes, Fiesta Winery, Iron Wolf Ranch
South Padre Island
For couples who love to party and have a great time, South Padre Island is the ultimate destination. This vibrant island offers a plethora of entertainment options, both on and off the water, ensuring an unforgettable experience. Indulge in delightful beer flights at the renowned Padre Island Brewing Co., savoring the flavors and aromas of their craft brews. And when it comes to beach bars, Clayton's is a must-visit spot, where you can enjoy refreshing drinks, lively music, and soak up the sun on the sandy shores.
Best Time to Visit: Spring and Summer
Special Activities: Sunset walk on the beach, Liam's Steak House & Oyster Bar
Tips for Couples
Book in Advance: Popular destinations and activities often require advance booking, especially during peak seasons.
Local Cuisine: Don't miss out on trying local flavors, whether it's Tex-Mex in San Antonio or seafood in Galveston.
Pack Accordingly: Texas weather can be unpredictable. Check the forecast and pack layers.
Conclusion
Whether you're looking to step up the romance or simply spend quality time together, Texas offers a plethora of options that cater to every couple's needs. From the vibrant cities to the charming countryside, the Lone Star State is a romantic haven waiting to be explored.
Tags: